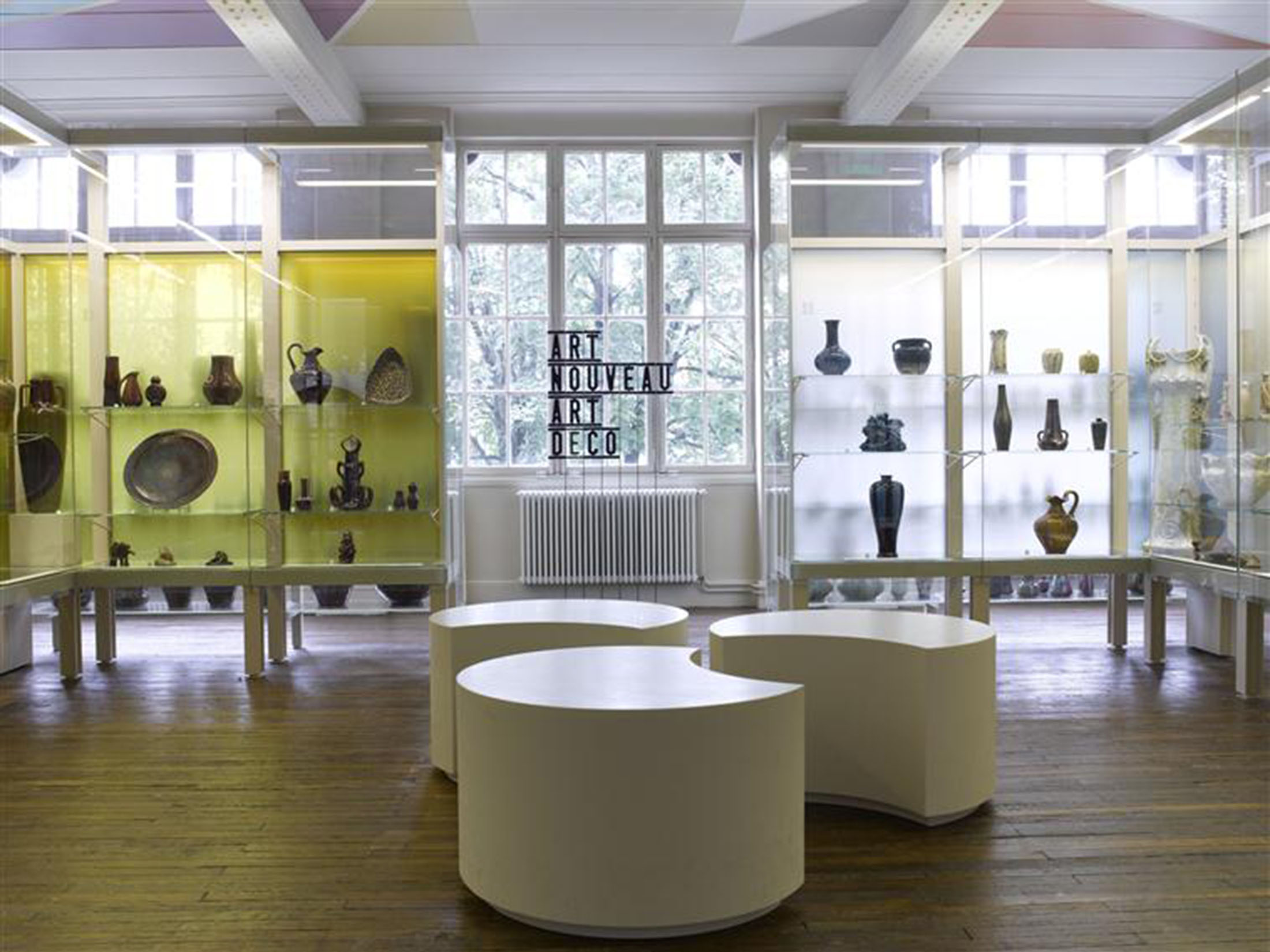 Very much a man of his time, Adrien Dubouché made a considerable contribution to the ceramic collection throughout his lifetime, donating an exceptional range of 19th century ceramics to the museum. This collection is now displayed in the former classrooms of the School of Decorative Arts, where the display is designed to create a sort of maze in which the visitor is surrounded by ceramics. To display the collection, the museum's designer Zette Cazalas used very plain displaycases resembling the industrial character of the building, whilst drawing inspiration from the museum's historical showcases. By observing the pieces in the collection and the polychromatic nature of the original museum, she has introduced very bold colours to the showcases and the ceiling. There are two sides to the showcases. One side is organised around the main 19th century art movements (neo-classicism, historicism, Orientalism, eclecticism, Japanism). There is an unparalleled collection of "impressionist" ceramics, an area in which the museum excelled very early on. On the other side of the showcases, "educational galleries" highlight the variety of European production by displaying the works side by side.
Much like the historical galleries on the ground floor, the route begins with neo-classicism. The monumental pieces from the Nast manufactory, which are genuine masters of skill, reveal the scientific and technical progress that is a common theme amongst the collections. The pieces that follow reflect the extreme variety of ceramics output in the 19th century: Berry porcelain, ceramics from the Auteuil workshop, artistic faience pottery by Théodore Deck, porcelain jewellery, reticulated porcelain from China, Sèvres and Worcester. Many of the works that form the core of this collection were acquired at World Fairs, and reflect the industrial rivalry that animated the nations of Europe, leading to artistic emulation between the major ceramic centres. A remarkable collection of Sèvres porcelain reminds visitors of the policy practised by the manufactory to store its pieces in experienced ceramics centres such as Limoges.
Focusing on ceramics from the late 19th century to the present day, the rooms that follow have also maintained their historical appearance: the old parquet floors and metal girders in these spaces have been restored to remind us of the original purpose of these premises. The Art Nouveau works – in particular those made in Sèvres under the inspection of Alexandre Sandier – are therefore contemporary with the setting in which they are now displayed. Once again, the international aspect of the collection is the result of a deliberate acquisition policy : from 1897, the museum acquired a number of high-fired porcelains from Royal Copenhagen's Parisian storehouse. Contacts were also established with Tiffany's in New York, through the art dealer Siegfried Bing.